Searching for Reionization-Era Quasars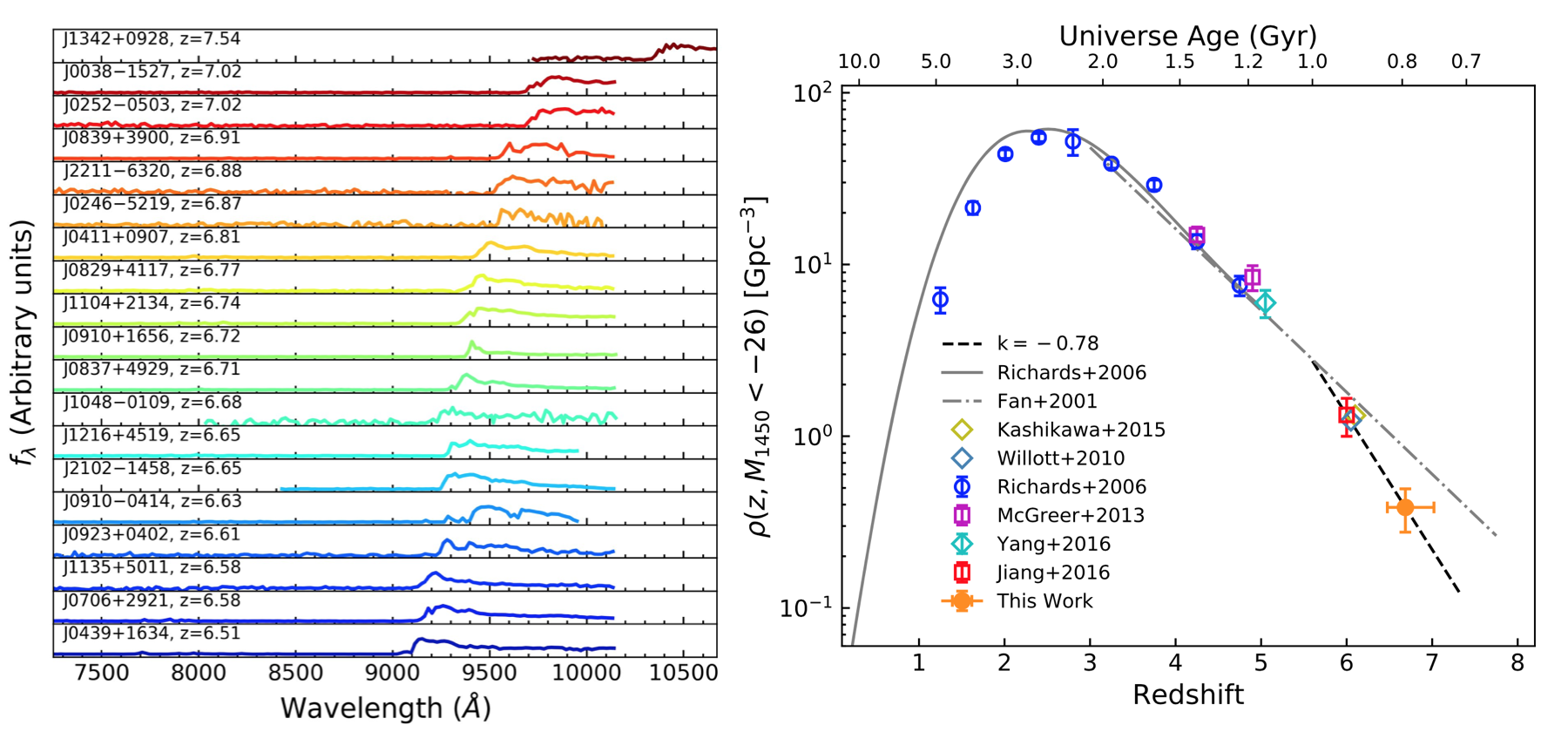 In order to direct probe the evolution of the first generation SMBHs, the co-evolution between SMBHs and their host galaxy, and the cosmic reionization history, a large statistical quasars in the epoch of reionization (EoR) is needed. However, efforts to find such high redshift objects have proven to be challenging, because of a combination of their declining spatial density and the limited sky coverage of near-infrared (NIR) surveys. Moreover, more than half of know quasars at z>6.5 are not bright enough for detailed investigations with current facilities.
From 2016, I and my collaborators have started a major effort in establishing the first large luminous z ≳ 7 quasar sample. Combining the optical, near-infrared (NIR), and mid-infrared (MIR) photometry from DECalS, BASS+MzLS, PS1, DES, UHS, VHS, and WISE (unWISE), we are surveying z ~ 7 quasars in a wide field of ~ 20,000 square degree sky area, including ~15000 square degree field in the North and ~ 5000 square degree field in the Southern Sky.
Our new survey has already made the following remarkable achievements:
The Redshift Record Holder Quasar at z=7.6.

We recently discovered a new quasar at z = 7.6, the most distant quasar ever known. Dating back to just 670 million years after the big bang, the quasar hosts a supermassive black hole equivalent to the combined mass of 1.6 billion suns. The existence of such a massive SMBH challenges theoretical models of SMBH growth. Multi-wavelength followup observations are undertaking.
Press release

The Luminous Quasar Hosting Massive BH at z=7.5.

We also discovered a luminous quasar at z=7.515 (Yang et al. 2020). It is more luminous than the previous redshift record holder J1342+0928 at z=7.54 (Banados et al. 2018) and hosts a two times more massive SMBH than J1342+0928, significantly challenging the earliest SMBHs growth. Moreover, we find that the damping wing signature which imprinted by neutral hydrogen is much weaker than that of J1342+0928 and other two z~7 quasars, suggesting that the cosmic reionization is very patchy.
Press release

The Most Distant Gravitationally Lensed Quasar at z=6.5.

From our survey, we discovered a strong gravitationally lensed quasar at z=6.5188, the first such object discovered in the EoR and the brightest z > 6 object in both optical and IR (Fan et al. 2019; Yang et al. 2019b). This discovery also suggests a large population of lensed quasars missed by previous surveys due to selection bias.
Press release

A Large Statistical Quasar Sample in the EoR.

In addition, our survey has yield more than 35 quasars at z ~ 6.5 - 7, including the most distant broad absorption quasar with high velocity outflows at z=7.02 and a z=7.00 quasar resides in a significant neutral environment (Yang et al. 2019a; Wang, Yang et al. 2018, 2019; Fan, Wang, Yang et al. 2019; Yang et al. in prep.).

The Quasar Population Evolves Fast in the EoR.

The quasar luminosity function measured based on this quasar sample indicate that the quasar density declines extremely fast at z>6.5 (Wang, Yang et al. 2019), suggesting that we are witnessing the first generation quasars in the EoR.
• Wang, Feige; Yang, Jinyi; Fan, Xiaohui, et al. 2021, ApJL A Luminous Quasar at Redshift 7.642
• Yang, Jinyi; Wang, Feige; Fan, Xiaohui, et al. 2020, ApJL Pōniuā'ena: A Luminous z = 7.5 Quasar Hosting a 1.5 Billion Solar Mass Black Hole
• Yang, Jinyi; Wang, Feige; Fan, Xiaohui, et al. 2019a, AJ Exploring Reionization-era Quasars. IV. Discovery of Six New z≳6.5 Quasars with DES, VHS, and unWISE Photometry
• Yang, Jinyi; Venemans, Bram; Wang, Feige, et al. 2019b, ApJ Far-infrared Properties of the Bright, Gravitationally Lensed Quasar J0439+1634 at z = 6.5
• Wang, Feige, Yang, Jinyi; Fan, Xiaohui; et al. 2019, ApJ Exploring Reionization-Era Quasars III: Discovery of 16 Quasars at 6.4≲z≲6.9 with DESI Legacy Imaging Surveys and UKIRT Hemisphere Survey and Quasar Luminosity Function at z~6.7
• Wang, Feige; Yang, Jinyi; Fan, Xiaohui, et al. 2018, ApJL The Discovery of A Luminous Broad Absorption Line Quasar at A Redshift of 7.02
• Fan, Xiaohui; Wang, Feige; Yang, Jinyi, et al. 2019, ApJL The Discovery of a Gravitationally Lensed Quasar at z = 6.51
• Bañados, Eduardo; ...; Yang, Jinyi et al. 2018, Nature An 800-million-solar-mass black hole in a significantly neutral Universe at a redshift of 7.5
• Wang, Feige; Fan, Xiaohui; Yang, Jinyi, et al. 2017, ApJ First Discoveries of z > 6 Quasars with the DECam Legacy Survey and UKIRT Hemisphere Survey
• Wu, Xue-Bing; ...; Yang, Jinyi, et al. 2015, Nature An ultraluminous quasar with a twelve-billion-solar-mass black hole at redshift 6.30